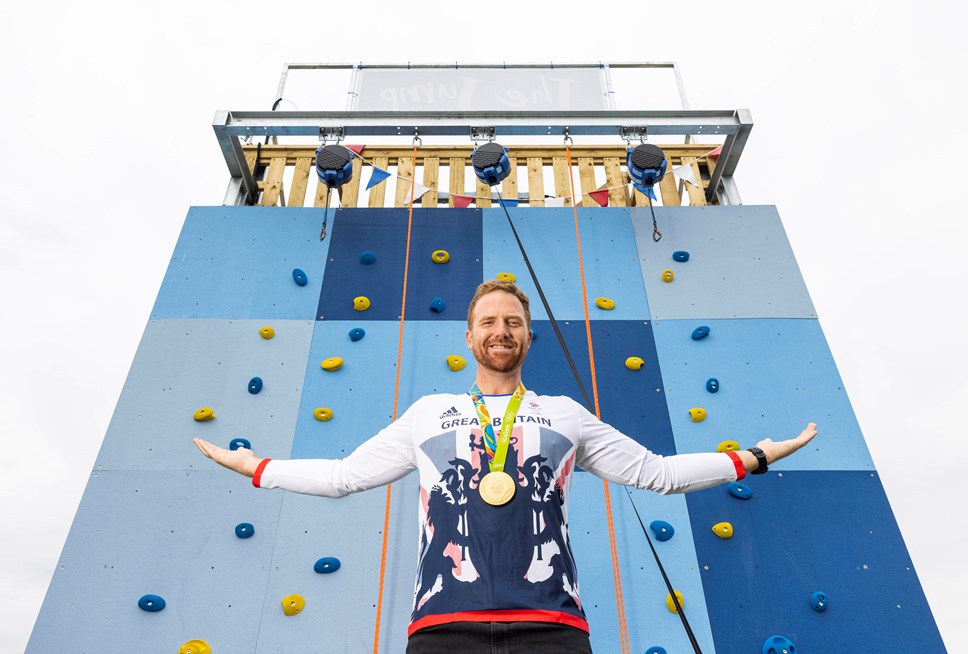 Olympic gold medallist Will Satch MBE officially launches brand new activities at Haven's Marton Mere Holiday Park
Olympic rower Will Satch MBE tackles heights at Marton Mere!
Leading UK holiday company Haven celebrates the launch of new high adrenaline activities at Marton Mere Holiday Park, with Team GB and Olympic gold medallist Will Satch MBE. Following a huge £3.5 million investment over the winter across a range of indoor and outdoor facilities as well as new accommodation, Marton Mere introduces the much-anticipated activity The Jump as well new climbing walls, golf course and segways ahead of what's expected to be another busy summer.
With the summer holidays fast approaching the demand for fun and exciting outdoor activities is higher than ever. The Jump, first introduced to Haven's Craig Tara park in 2019, offers guests a thrill-seeking experience by freefalling from two different height platforms onto a massive airbag!
Officially launched today in front a crowd of eagle-eyed spectators, Team GB athlete Will was in high spirts as he tried out all the new activities.
Team GB rower Will Satch, who won a bronze medal at London 2012 before claiming gold at Rio 2016, is no stranger to competitive challenges. "I'm such a big fan of adrenaline filled experiences so for me, even on a holiday I want to be active" says Will. "There is so much to do and even as an adult these activities are tons of fun, so I can definitely see why children are eager to try it this summer."
Whilst Will is a highly decorated rower, you don't have to be an Olympian to get involved in the new activities at Marton Mere. Guests can get on two wheels and explore on segways or bikes, or grab a greater view of the park from the climbing wall. The six-wheel electric vehicle laps around a multi terrain course specifically designed for those with an adventure for speed.
Talking about the launch day Keith Robson, General Manager at Marton Mere said "It was amazing to see so many people supporting the launch of our new activities today. We're very happy to be able to bring these fun and exciting additions to park and we can't wait to see our guests enjoying them throughout the summer"
In addition to the new activities, Marton Mere has invested in other areas this winter with over 70 new pitches for holiday homes and a whole new location on park in Lakemere View near the Marton Mere nature reserve. There is also a new Burger King as well as new outdoor dining areas providing plenty of space for guests to enjoy the park. The investments have led to an additional 35 new roles which provides a huge boost to the local area.
Contact Information
Corrie Parris
Notes to editors
-End- 
For any more information or imagery please email havenpressoffice@haven.com or call 01442 941079 
Notes to editors: 
Haven: As one of Britain's leading family holiday companies Haven own and operate 41 award-winning family holiday parks throughout England, Scotland and Wales. They offer a full programme of activities and entertainment alongside being located next to some of Britain's most beautiful beaches and brightest resorts making them a great base for exploring the local area." 
Haven is the official Great British Holidays partner of Team GB for Tokyo 2020.