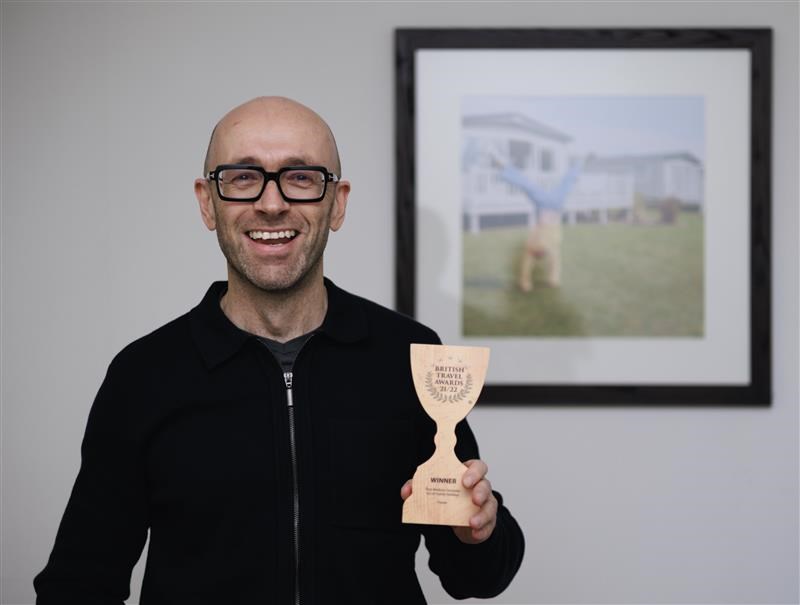 Haven Holidays takes the win at the British Travel Awards 2022
Following an incredibly successful 2022, Haven wins the award for Best Family Holiday Company
Leading UK holiday company Haven have been announced winners in the Best Company for UK Family Holidays category, taking home Gold at the esteemed British Travel Awards 2022.
Haven is the largest UK caravan operator with 41 holiday parks and 2.5 million visitors a year. The announcement was made on 29 November at a star-studded Gala Awards ceremony held in London. Hosted by TV presenter Alison Hammond in front of a huge audience of guests and nominees, including some of the UK's top travel editors, Haven was amongst some of the biggest travel companies in the UK.
BTA director of events and partnerships, Lorraine Barnes Burton, said: "The British Travel Awards are the largest travel industry accolade voted for exclusively by the consumer, and the Awards serve to recognise all that is great about travel, as experienced by the travelling public. Travel companies have had a tough time during the pandemic, but it is wonderful to be back travelling again and receiving a British Travel Award heralds a promising start to 2023. Understandably, votes were up by 158% on the 2020 voting figures, showing that consumers really missed travelling, and are keen to have their say when it comes to those all-important holidays."
The BTA gala evening followed a July-October public vote in 62 categories covering a comprehensive range of products and services experienced by customers when planning, booking and going on holiday. The Hemel Hempstead based travel company operates 41 holiday parks around the British coast and is celebrating the award following taking the crown for the 'Best Family Holiday Company' in 2017 and 2018.
Simon Palethorpe, managing director of Haven commented: "We're honored to win an award for the Best Medium Size Holiday Company at the British Travel Awards 2022. I want to thank all our fantastic team members at our central support centre and parks for continuing to provide excellent service and helping to create memories that last a lifetime for all our guests and owners."
Contact Information
Corrie Parris
Notes to editors
MEDIA CONTACT INFORMATION
For any more information regarding Haven or imagery please email havenpressoffice@haven.com
Haven: as one of Britain's leading family holiday companies Haven own and operate 41 award-winning family holiday parks throughout England, Scotland and Wales. They offer a full programme of activities and entertainment alongside being located next to some of Britain's most beautiful beaches and brightest resorts making them a great base for exploring the local area. 
The British Travel Awards: is the largest awards programme in the UK created to reward the best companies in travel. The British Travel Awards are easily the most recognisable of all travel industry accolades amongst consumer and industry professionals alike with categories spanning all types of holiday experience - transport, destination, cruise, customer service, holiday extras, and accommodation. The British Travel Awards symbol is the benchmark for excellence when it comes to finding out who really is the best in the business.
The British Travel Awards are funded by the registration fees and patronage of sponsors who have identified the ROI from increased brand visibility and sales opportunities as the consumer and trade audience grows exponentially year-on-year.