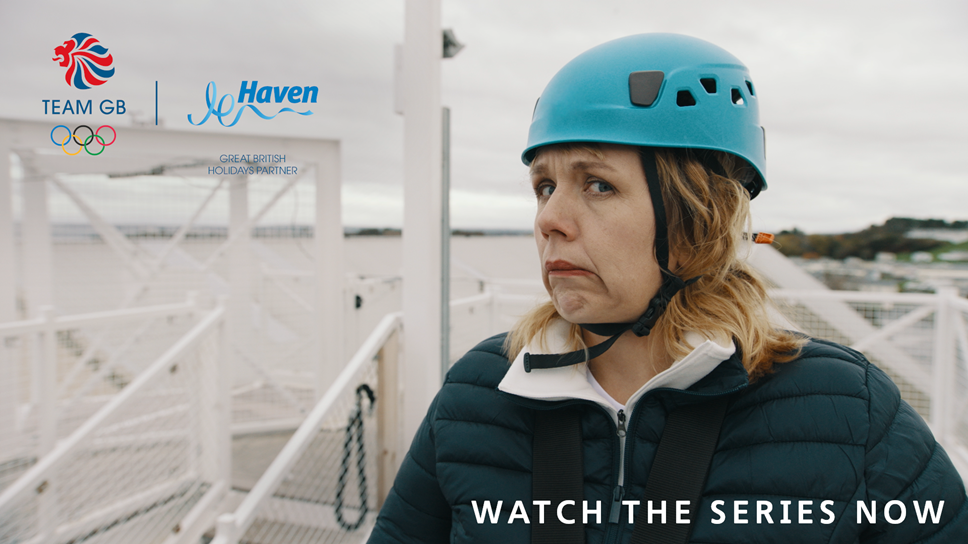 Haven brings laughs as they team up with Kerry Godliman to help Team GB prepare for the Olympic Games
Craig Tara holiday park is the hub of smiles in a new three-part comedy series that marks its partnership with Team GB.
Haven's Craig Tara holiday park is the hub of smiles as it replaces the potential tension for athletes of the upcoming Tokyo 2020 games with a light-hearted training approach in a new three-part comedy series that marks its partnership with Team GB.
Surrounded by staggeringly breath-taking views of the Scottish coast, the new comedy series is filmed at Haven's Ayrshire park, where you see comedic actress Kerry Godliman attempt to bring her unique coaching tips to the stars of Team GB.
In each episode, Kerry coaxes a Team GB athlete to take on one of the fun-filled activities found in the Lighthouse Harbour Adventure Village at the park, in what she believes this alternative training method will fully prepare them for Gold at Tokyo 2020.
Episode one follows Men's road cyclist Owain Doull, take on The Extreme Jump and fall an astonishing 40 feet (but attached with a body harness!) that Kerry advises will mentally prepare him for gold. Episode two follows retired men's artistic gymnast Nile Wilson attempting to be guided by Kerry's hilarious spin on building his muscle memory with a game of Haven's crazy golf. Although some level of training does pay off as he manages to reign victorious with a hole in one through the popular lighthouse obstacle! In the third and final episode, we see women's 100 metre sprinter, Asha Philip hit her personal best on Haven's Crazy Climber as she races to the top of the climbing wall in hopes of avoiding 'hitting the wall' at the games as coach Kerry advises.
Launched in 2019 as part of Haven's Park of the Future project that has seen Haven invest over £110m in new innovative concepts to park, the Lighthouse Harbour Adventure Village at Craig Tara is filled with a range of fun filled activities families can enjoy with a Stay+Play holiday at park.
From adrenaline filled activities like The Extreme Jump to action-packed favourites like the Crazy Climber wall, Adrena-Line zip wire and an indoor Play Village, there is something for everyone at Craig Tara – and you don't have to be an Olympian to have a go!
The comedy series is live across Haven's website www.haven.com/teamgb and will be streamed on social media channels for all to watch.
Contact Information
Louise Sterling-Jackman
Notes to editors
-End-
For any more information or imagery please email havenpressoffice@haven.com or call 01442 941079
Notes to editor:
Haven: As one of Britain's leading family holiday companies Haven own and operate 40 award-winning family holiday parks throughout England, Scotland and Wales. They offer a full programme of activities and entertainment alongside being located next to some of Britain's most beautiful beaches and brightest resorts making them a great base for exploring the local area.
Haven is the official Great British Holidays partner of Team GB for Tokyo 2020.