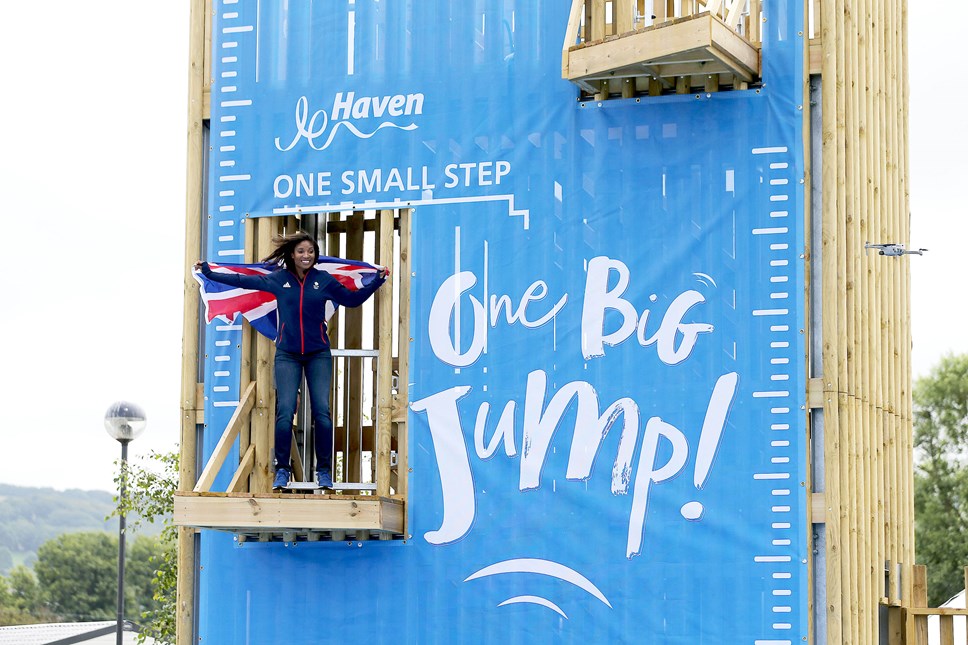 Denise Lewis OBE Takes a mighty jump into summer at Haven's Presthaven Holiday Park
Olympian launches exciting new activity ahead of busy summer.
Just in time for what is expected to be one of the busiest summers for leading UK holiday park operators Haven, The Jump is set to allow holidaymakers at Presthaven to take a real leap into the summer; with gold medal winning Heptathlete and Broadcaster, Denise Lewis one of the first to take the plunge!
The new addition is part of the Park of the Future project that is now its third year, seeing Haven invest over £110m since 2019 in a range of new and innovative concepts for guests and owners to enjoy. First introduced at Haven's Craig Tara in Ayr, The Jump is a thrill-seeking activity giving holidaymakers the experience of free falling from two different heights onto a massive airbag.
The new activity will be officially opened on Thursday 15 July by Denise Lewis who was impressed by the new addition to the park. "What a thrilling yet nervous experience!" said Denise Lewis. "I can see this is going to be so popular and I know my children will love it too! Definitely one to try this summer."
"We're all excited to introduce The Jump on park which will give our holidaymakers and holiday homeowners something exciting to experience during their time with us" said Neil Ankers, General Manager for Haven's Presthaven holiday park, "It will certainly garner plenty of attention and will easily become a favourite, based on how well it has been received at other parks already."
The Jump will be available for all Stay+Play guests and will be a part of the Adventure Village that has a range of activities for both young and old to enjoy.
Contact Information
Louise Sterling-Jackman
Notes to editors
-End-
For any more information or imagery please email havenpressoffice@haven.com or call 01442 941079
Notes to editor:
Haven: As one of Britain's leading family holiday companies Haven own and operate 40 award-winning family holiday parks throughout England, Scotland and Wales. They offer a full programme of activities and entertainment alongside being located next to some of Britain's most beautiful beaches and brightest resorts making them a great base for exploring the local area.