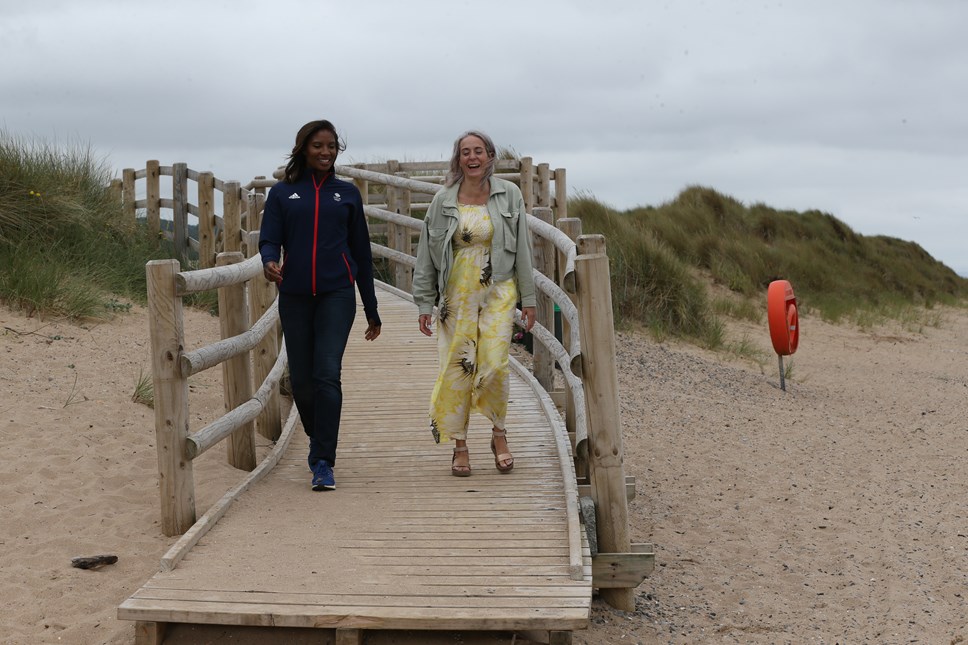 Dedicated mum walks into an experience of a lifetime with Haven's Lockdown Champions Competition
Daily lockdown walks and raising funds for her local Down Syndrome support group brought Laura out on top.
Local Runcorn mum, Laura Whitney came out on top in Haven's national competition celebrating lockdown champions winning herself and family an experience of a lifetime, a walk on the beach with gold medal winning Heptathlete Denise Lewis OBE.
The competition organised by leading holiday company Haven and Team GB encouraged members of the public to nominate someone they believed had demonstrated incredible mental strength or helped others improve theirs throughout the height of the lockdown during the pandemic. Amongst hundreds of entries, Laura emerged a winner.
Mother of a two-year-old boy diagnosed with Down Syndrome, Laura found the lockdown extremely challenging, especially not being able to meet with her local Down Syndrome support group. With the pandemic also cancelling many of the group's vital fundraising activities, Laura took it upon herself to raise money for the group by doing an extended charity walk.
Carrying her youngest diagnosed son on her back in his carrier and eldest in hand, Laura set out on a 2.6km walk every day, for 26 consecutive days and managed to raise an incredible £3,000.
"Some days were quite testing" said Laura, "It was hard to get my boys up and out on certain days, but I knew it was for a great cause and I was doing it for them. I'm so proud of this achievement and it was such an uplifting experience".
Streaming the walk on Facebook live everyday allowed Laura to garner support of the local community and raised greater awareness of her charitable cause. "One day a lady slowed down her car beside the boys and shouted her support, telling me she's been following my journey since day one" said Laura, "That was just one example, the support locally has just been overwhelming".
Laura and family travelled to Haven's Presthaven holiday park on Thursday 15 July to set out on their winning walk on the beach with Denise Lewis. Taking a scenic walk down the beautiful Presthaven coast, Laura, husband and two sons had the perfect day with the Olympian, "I can't believe how down to earth Denise is. It was like having a chat with a long time friend! She is absolutely lovely and the kids loved her too!" said Laura.
"It was an honour to meet such an admirable woman" says Denise Lewis. "As a mother myself, I applaud her strength and determination throughout the 26 days of her charity walk. It takes a lot of mental strength to commit to something like that, especially as she was accompanied by her two young sons every day. She should be extremely proud of her achievement".
Laura was one of five winners of the Haven Lockdown Champions competition, with other prizes including other experiences with Olympians such as a private diving session with Tom Daley, a baking class with Bryony Page, a dance class with Amy Tinkler and a bike ride with Vicky Holland.
Contact Information
Louise Sterling-Jackman
Notes to editors
-ENDS-
Note to News Editors: For more information contact Haven Press Office, Tel: 01442 941079, email: havenpressoffice@haven.com
About Haven
As one of Britain's leading family holiday companies Haven own and operate 40 award-winning family holiday parks throughout England, Scotland and Wales. They offer a full programme of activities and entertainment alongside being located next to some of Britain's most beautiful beaches and brightest resorts making them a great base for exploring the local area.
Haven is the official Great British Holidays partner of Team GB for Tokyo 2020.