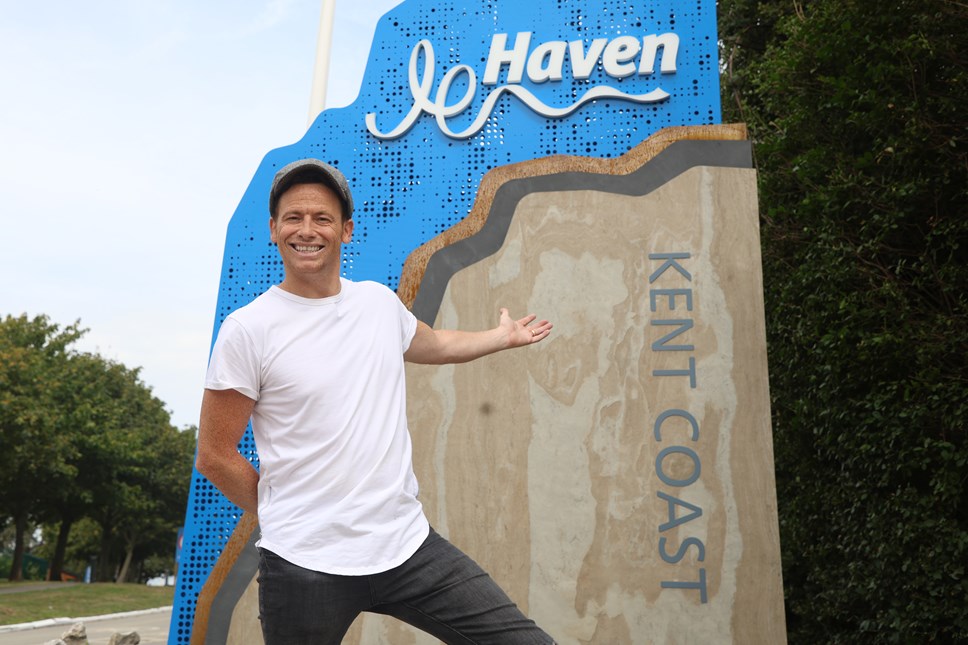 TV presenter Joe Swash jumps into Haven's new flagship park in Kent to celebrate £18M transformation
Britain's much-loved actor and TV presenter, Joe Swash, tested out the brand-new activities and facilities to celebrate the relaunch of the newly named Haven Kent Coast
The relaunch forms part of Haven's nationwide developments which have seen the company invest £170 million this year across its 41 parks in Britain
Haven, the UK's leading holiday park operator, has revealed its newly revamped, and renamed, 'Haven Kent Coast' holiday park, in collaboration with TV personality, Joe Swash.
Joe headed to Haven Kent Coast, formerly Haven Allhallows Leisure Park, yesterday (24th August) to test out the adrenaline-packed activities – including a 6m jump – and to reveal the new name to thousands of holiday makers. The transformation, which follows an £18 million investment into park upgrades, places Haven as the premier British staycation provider, and ensures that everyone has an unforgettable holiday experience.
Located just 15 miles outside of Greater London, holidaymakers can enjoy the action packed 'Adventure Village', an exciting waterside spot where thrill seekers can try their hand at a wide range of high-adrenaline activities, new state-of-the-art 1,200-seater Marina Bar & Stage and a 100-seater terrace. Visitors will also be able to enjoy recently developed food and beverage outlets, such as the new Seaside Treats, Burger King, Papa John's, and Cook's Fish & Chips restaurants. The most recent development is Haven Kent Coast's new Yacht Club for holidaymakers to eat and drink by the waterside.
As the domestic tourism market continues to grow, Haven has exceeded pre-pandemic levels with this year's summer school holiday bookings up 32% compared to 2019 – signalling a resounding vote of confidence in the UK domestic tourism industry.
TV presenter and actor, Joe Swash, says: "It was a real honour to come and reveal the new name of Haven Kent Coast. Having grown up holidaying in the UK, it's so great to see Haven investing in the staycation experience for thousands of holidaymakers. I have cherished memories when I was younger being on holiday with Mum and Dad, and the money Haven has put into these parks means that other UK holidaymakers will be able to create their own magical memories and have the most incredible time with their family. I tried out some of the new activities on the Adventure Village and would definitely recommend The Jump - a six metre fall onto a massive airbag – that will get your heart going!"

Simon Palethorpe, Managing Director at Haven, said: "We are thrilled to have transformed and relaunched Haven Kent Coast, not only because it showcases our ambitious developments but because it promises our UK holidaymakers an unrivalled, elevated holiday experience. We are always striving to ensure we are giving our guests the UK holiday they deserve and this huge investment into the park ensures we can provide the best entertainment and dining experiences. Furthermore, we are delighted about the boost it will give to the local economy with the creation of thousands of new jobs across the sites."
With this timely transformation, Haven is leading the way in changing perceptions of UK holiday parks by creating unique destinations that offer even more fun with premium entertainment and activities fit for all the family, at an incredible value.
Contact Information
Corrie Parris
Notes to editors
Please find assets including images of the event and videos through this link: https://news.haven.com/resources/f/our-parks/kent-coast
Images to be referenced as 'PA Images'
Video to be referenced as 'Haven Holidays'
Hideaway prices from £57 - based on a Bronze caravan on 25th September - 4nts
Haven prices from £89 - based on a Bronze caravan on 25th September - 4nts