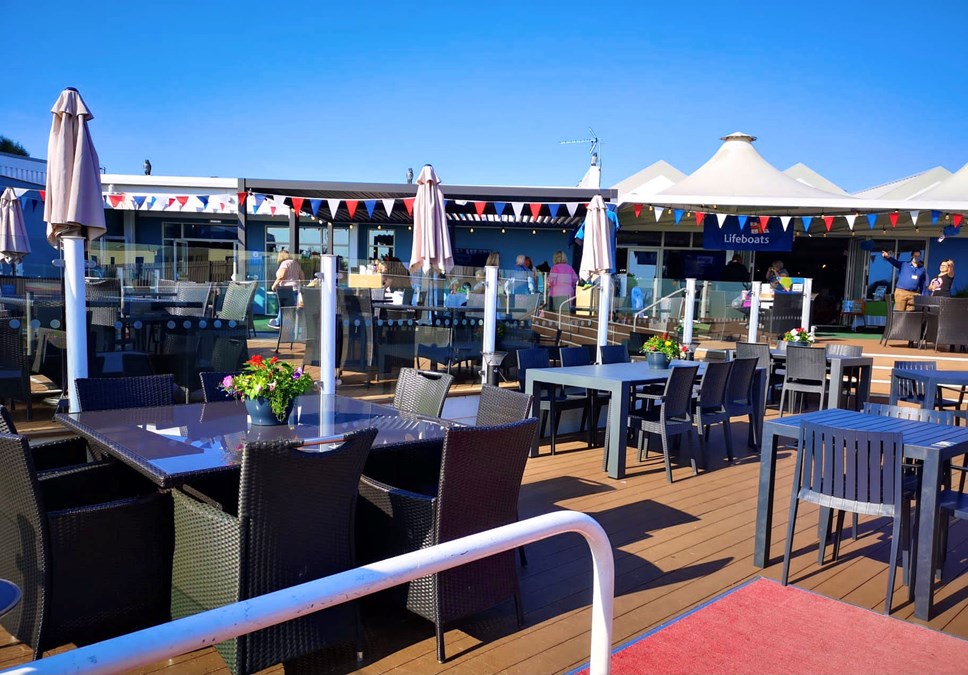 Sun, fun and saving lives at Haven's Berwick Holiday Park
Harbour Day celebrations at Haven's Berwick Holiday Park raises a whopping £2,600 for charitable partner the RNLI.
During the annual charity Harbour Day celebrations, the team at Haven's Berwick Holiday Park managed to raise a whopping £2,600 for their charitable partner the Royal National Lifeboat Institution (RNLI), in a bank holiday weekend filled with great fun and raising money to save lives.
Adorned in red, white and blue bunting, Berwick Holiday Park sailed into the August bank holiday weekend with high hopes – and sunshine to match! The weekend saw stalls from local independent retailers, activities for the whole family to enjoy and a special birds of prey display that wowed the crowd. In addition, holidaymakers were serenaded on the outdoor terrace by brilliant vocalist Kitty Roberts.
The RNLI mascot Stormy Stan was also out enjoying the sun over the weekend and even hosted the draw of the raffle on Sunday evening where one lucky guest won themselves a Haven holiday. "Harbour Day is a staple here at Berwick," said Denise Bossons, General Manager at Berwick Holiday Park. "It's always a fun weekend with lots of activities for both holidaymakers and holiday homeowners to take part in. This year was no different and we are very proud of the amount of money we were able to raise for the RNLI."
Since launching the partnership with the charity in 2018, Haven has managed to raise over £310,000 by team, guests and owners through a range of different fundraising efforts such as the annual Harbour Day held at Berwick. The funding has helped fund essential training for lifeguards, new inshore lifeboats and full kit for inshore crew members, just to name a few.
With over 2.5million holidaymakers visiting Haven parks each year, the RNLI's work is vital to educate people on how to stay safe at the coast and know what to do in an emergency.
"Saving lives is at the heart of everything we do and because we are not publicly funded, which many people may not realise, we highly value our partnership with Haven and are extremely grateful for the charitable donations made throughout the year.

"These donations help us do our crucial work at sea and also give us the chance to continue to educate people on how they can lessen the risk of putting themselves in danger at sea" said Ross Martin, Partnerships Manager for the RNLI.
The Harbour Day weekend at Berwick received fabulous feedback from all and the next fundraising weekend is planned for the 5 November, with a spectacular fireworks display in the works. Berwick Holiday Park is one of the eleven Haven parks that will be extending their 2021 season into November to give holidaymakers more time to enjoy costal breaks this year.
There is still time to book a late break where you'll be able to pair family fun with raising money to save lives with a four night Stay+Play break as low as £109 for a family of four https://www.haven.com/holidays/autumn/late-breaks
Contact Information
Louise Sterling-Jackman
Notes to editors
-End-
For any more information or imagery please email havenpressoffice@haven.com or call 01442 941079
Notes to editors:
Haven: As one of Britain's leading family holiday companies Haven own and operate 36 award-winning family holiday parks throughout England, Scotland and Wales. They offer a full programme of activities and entertainment alongside being located next to some of Britain's most beautiful beaches and brightest resorts making them a great base for exploring the local area."
RNLI: Founded in 1824, the Royal National Lifeboat Institution (RNLI) provides a 24/7 search and rescue service out of 238 lifeboat stations around the UK and Irish coasts. Its seasonal lifeguards also patrol over 240 beaches around the UK and Channel Islands. As a charity, the RNLI is independent from government and almost entirely funded by donations. Ninety-five percent of the RNLI's people are volunteers, including 4,800 lifeboat crewmembers and more than 22,000 community fundraisers. Find out more at rnli.org