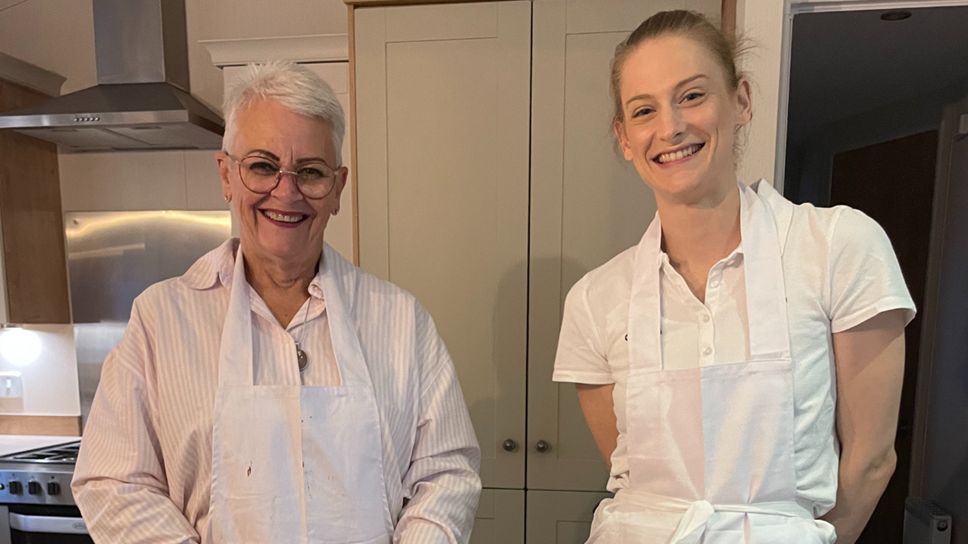 Somerset resident captured moments wins her an experience of a lifetime with Haven's Lockdown Champions Competition
Local Lovington resident's lockdown efforts rewarded with a baking class with double Olympic medallist Bryony Page.
A local Lovington resident committed to helping others throughout the lockdown landed herself one of the winning spots in Haven's national Lockdown Champions competition, with a once in a lifetime opportunity of a baking class with double Olympic medallist, trampoline gymnast Bryony Page.
The competition, organised by leading holiday company Haven and Team GB, celebrated those who had demonstrated incredible mental strength or helped others improve theirs throughout the height of the lockdown during the pandemic. Amongst hundreds of entries, wife, mother, and grandmother Indra Cotton came out on top.
Over the duration of the lockdown, Indra seized the opportunity to support members of her local community through helping her elderly neighbours with essential tasks such as food shopping, which she did twice a week. However, throughout that time of helping, Indra felt compelled to capture the unique moment in time they were facing, by taking photos of the local community and depicting the mood.
"I live in a small village and wanted to create a photographic memory of the extraordinary time we were living through" said Indra Cotton. "In essence, I wanted to put together photos that could be used as almost a time capsule for our children and grandchildren who might not remember just how stressful and even traumatic the pandemic has been for us in this small village".
Taking nine months to complete the project, Indra invited residents of the local community she had photographed to write small notes to accompany their photos, with a forward for the book provided by the Parish Council. "It was such a great feeling to see the smile on everyone's faces when they saw their pictures and comments in the final memento" said Indra Cotton.
On Thursday 14 October, Indra and granddaughter travelled to Haven's Burnham-on-Sea holiday park to take part in a special baking class with Bryony Page. "My granddaughter and I had such a lovely day" said Indra Cotton. "We got stuck in making an array of cupcakes and cookies, which tasted fantastic and Bryony was friendly, made us feel comfortable and also took her time to go through the book – which put a big smile on my face."
"The photos in the book were beautiful along with the notes written by the residents," said Bryony Page. "It was such a heartfelt gesture, which I'm sure will be passed down through generations and something that people can feel very united by the pandemic which brought many communities closer together. I was really touched by it and it was lovely to spend the day with Indra".
Indra was one of five winners of the Haven Lockdown Champions competition, with other prizes including experiences with Olympians such as a private diving session with Tom Daley, a walk on the beach with Denise Lewis, a dance class with Amy Tinkler and a bike ride with Vicky Holland.
Contact Information
Louise Sterling-Jackman
Notes to editors
-ENDS-
Note to News Editors: For more information contact Haven Press Office, Tel: 01442 941079, email: havenpressoffice@haven.com
About Haven
As one of Britain's leading family holiday companies Haven own and operate 40 award-winning family holiday parks throughout England, Scotland and Wales. They offer a full programme of activities and entertainment alongside being located next to some of Britain's most beautiful beaches and brightest resorts making them a great base for exploring the local area.
Haven is the official Great British Holidays partner of Team GB for Tokyo 2020.