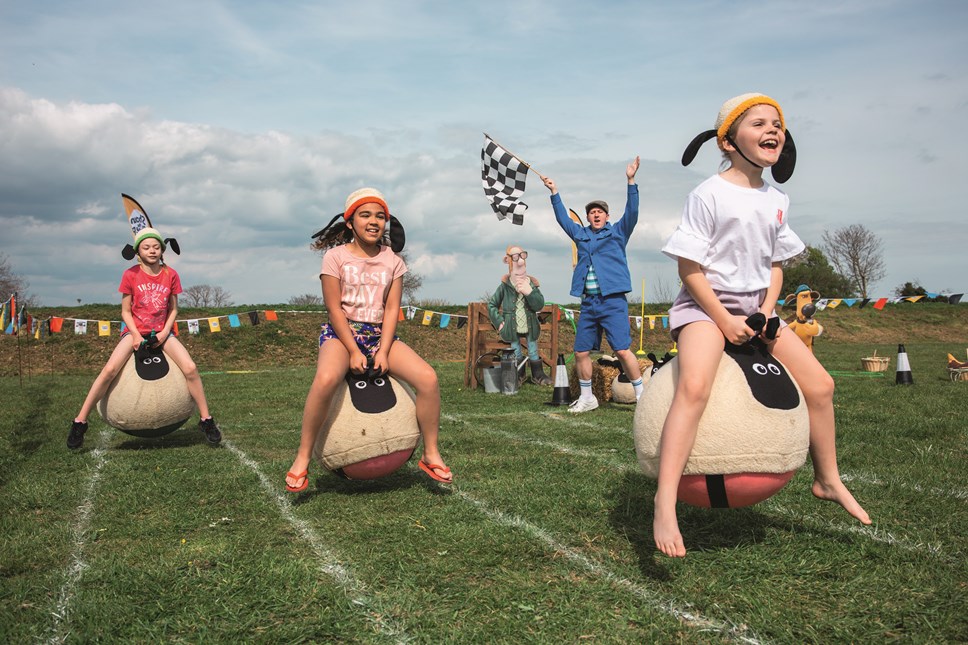 Shaun the Sheep flocks to Haven for a Summer of Farmathlon Fun!
Can you keep up with Shaun the Sheep this summer?
Get ready for the ultimate sports day challenge as Haven, the UK's leading holiday company, joins forces with Aardman's mischievous farmyard favourite as he hosts his very own, exclusive Championsheeps Live: Farmathlon experience.
Join Shaun for six weeks of summer fun as he frolics his way around 35 parks, offering the youngest visitors to Haven this fun range of 7 farm-made games which are Shaun's spin on the Olympic Heptathlon. Farmathlon will take place on selected dates between the 23 July to 1 September and as the leader of the Flock, Shaun will be encouraging his farmyard crew to try games such as Cabbage Shot-Put, Green Bean Javelin, Sheep Hopper Race, Sty Jumping, Egg-Hundred Metres, a Marrow-thon and more!
Always at the centre of adventure on Mossy Bottom Farm, this funny, four-legged friend will have children hopping, running and jumping at the craziest sports day ever! Loved by the whole family, the spin off from the Wallace & Gromit franchise will provide heaps of fun for children, who will even get the chance to meet the legendary Shaun the Sheep himself!
The Shaun the Sheep Farmathlon will be available to all guests at selected Haven parks this summer, but if you still have plenty of energy after all that farmyard frolicking, then Haven offers a wide selection of other activities based on a Haven Holiday package. To see a full list of Shaun the Sheep selected dates and parks, click here.
Contact Information
Corrie Parris
Notes to editors
Notes to Editor:
Shaun the Sheep's Farmathlon consists of 7 games and is available for Haven guests and owners to watch and participate at no extra cost. Hosted at 35 parks across Haven excluding Lydstep and Far Grange on selected dates between 23 July – 1 Sept, Shaun will perform once a week in each park.
As one of Britain's leading family holiday companies Haven own and operate 40 award-winning family holiday parks throughout England, Scotland and Wales. They offer a full programme of activities and entertainment alongside being located next to some of Britain's most beautiful beaches and brightest resorts, making them a great base for exploring the local area.
About Shaun the Sheep
Shaun the Sheep, Aardman's family favourite TV series, is recognised the world over for its slapstick humour, distinctive look and strong, quirky characters and enjoyed across multiple media platforms. First appearing in Nick Park's 1995 Academy Award® winning Wallace & Gromit 'A Close Shave', Shaun then went on to star in his own series, created by Richard Starzak which launched on BBC One in 2007.  Shaun the Sheep is currently broadcast in 170 territories around the world and is an internationally celebrated icon with over 5.6 million fans on Facebook.  In 2015 the first Shaun the Sheep Movie with feature film partner Studiocanal was released around the world to critical acclaim and the first half hour TV special aired as part of many broadcaster's festive season., The feature film sequel Shaun the Sheep Movie: Farmageddon was released in October 2019 and nominated for an Academy Award® and was closely followed by a sixth season of the series in 2020.  A new festive special Shaun the Sheep: The Flight Before Christmas was released in December 2021.
About Aardman
Aardman, an employee-owned company, is based in Bristol (UK) and co-founded in 1976 by Peter Lord and David Sproxton, is an independent and multi-Academy Award® and BAFTA® award winning studio. It produces feature films, series, advertising, games and interactive entertainment – current animated productions include; 2021 holiday specials Robin Robin and Shaun the Sheep: The Flight Before Christmas, CGI series Lloyd of the Flies, a new stop motion series for pre-schoolers The Very Small Creatures, feature length sequel Chicken Run: Dawn of the Nugget and a brand new Wallace & Gromit film for 2024.
Its productions are global in appeal, novel, entertaining, brilliantly characterised and full of charm reflecting the unique talent, energy and personal commitment of the Aardman team. The studio's work – which includes the creation of much-loved characters including Wallace & Gromit, Shaun the Sheep, Timmy Time and Morph – is often imitated, and yet the company continues to lead the field producing a rare brand of visually stunning content for cinema, broadcasters, digital platforms and live experiences around the world. Recent celebrated projects include the 'visually astonishing' (Guardian), BAFTA® nominated console game, 11-11: Memories Retold, the four-times Gold Cannes Lions-winning StorySign app, AR experience Wallace & Gromit: The Big Fix up - and innovative attractions for both the domestic and international market, including a 4D theatre attraction at Efteling in the Netherlands.
The studio runs the Aardman Academy which has a commitment to nurturing talent by delivering excellence in film and animation training and mentoring. The Aardman Academy offers a variety of courses from intensive one-day workshops teaching production skills and storyboarding, to comprehensive twelve-week courses for professionals in craft based subjects from model making to animation.
In November 2018 it became an Employee Owned Organisation, to ensure Aardman remains independent and to secure the creative legacy and culture of the company for many decades to come. www.aardman.com