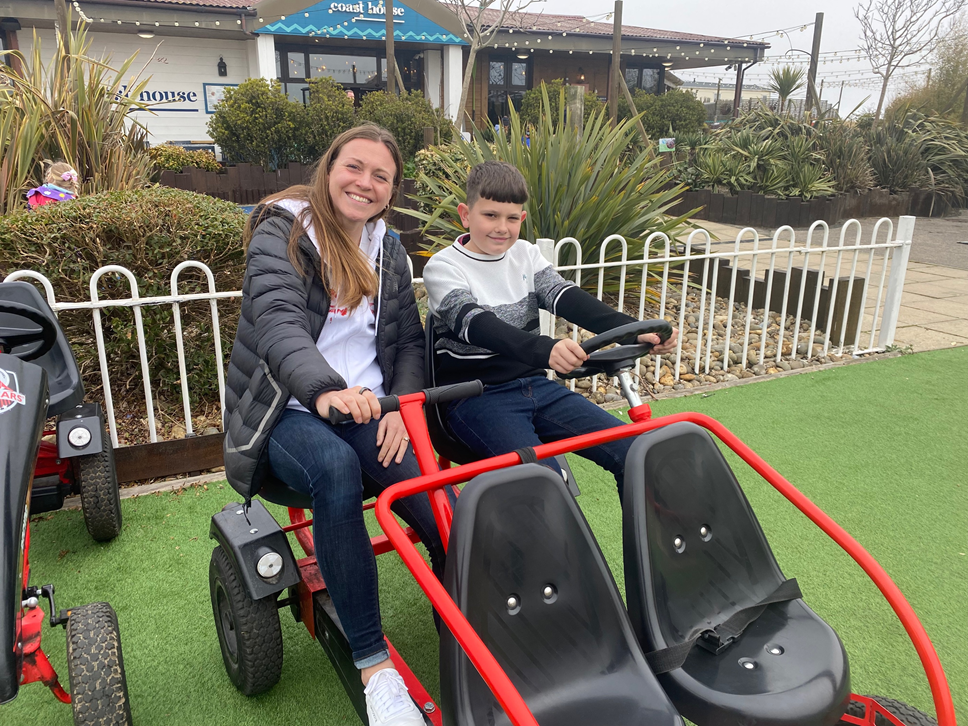 Norwich lad rides to victory in Haven's Lockdown Champion competition
Caleb Calver meets Team GB athlete Vicky Holland after raising £3,300 for charity
Cycling his way through lockdown to raise funds for charity has seen Norwich boy Caleb Calver, win a prestigious competition with leading holiday company Haven.
Among hundreds of entries to Haven's Lockdown Champions competition, searching for people who had shown real grit and determination through the pandemic, Caleb Calver was selected to meet Team GB and Rio Olympic bronze medal winning triathlete Vicky Holland, for a private karting session.
Caleb, a young schoolboy from Norwich, Norfolk is the epitome of a true lockdown champion thanks to his incredible fundraising efforts towards Nelson's Journey, a local children's bereavement charity. Over January 2021 whilst the country was in a third lockdown, Caleb cycled over 250 miles raising a staggering £3,300 for the charity.
Laura Calver, Caleb's mum spoke of her pride of her son. "Caleb never fails to amaze me – I recently lost my brother to suicide, which prompted Caleb to start his fundraising efforts and support the rest of the family emotionally when I needed him the most. Since my brother passed away in January 2020, it was especially important to Caleb to start his fundraising on the anniversary of his passing away, in January of 2021."
Caleb and family visited Haven's Seashore holiday park on Sunday 27th March for a private karting session with Vicky and was given the opportunity to sit down with her over a bite to eat and take the time to get to know one another.
"I couldn't believe I was meeting Vicky Holland" said Caleb. "A karting ride was organised for us by the Haven team which I was really excited about – I'm a super competitive person, so I took this as an opportunity to showcase my speed on the kart! Vicky also joined in on a game of kart hide-and-seek, which was really fun; and then spent time chatting and having some cake, which was absolutely delicious. Thank you for selecting me as a Lockdown Champion, Haven – you made me feel like a 'VIP'."
Caleb was one of several Haven Lockdown Champions to be given the chance to meet members of Team GB, such as Bryony Page and Denise Lewis – prizes included a stroll down the beach, a baking class, and even an opportunity to watch a private diving session.
Images available upon request.
Contact Information
Corrie Parris
Notes to editors
Note to News Editors: For more information contact Haven Press Office, Tel: 01442 941079, email: havenpressoffice@haven.com
About Haven
As one of Britain's leading family holiday companies Haven own and operate 41 award-winning family holiday parks throughout England, Scotland and Wales. They offer a full programme of activities and entertainment alongside being located next to some of Britain's most beautiful beaches and brightest resorts making them a great base for exploring the local area.
Haven is the official Great British Holidays partner of Team GB for Tokyo 2020.