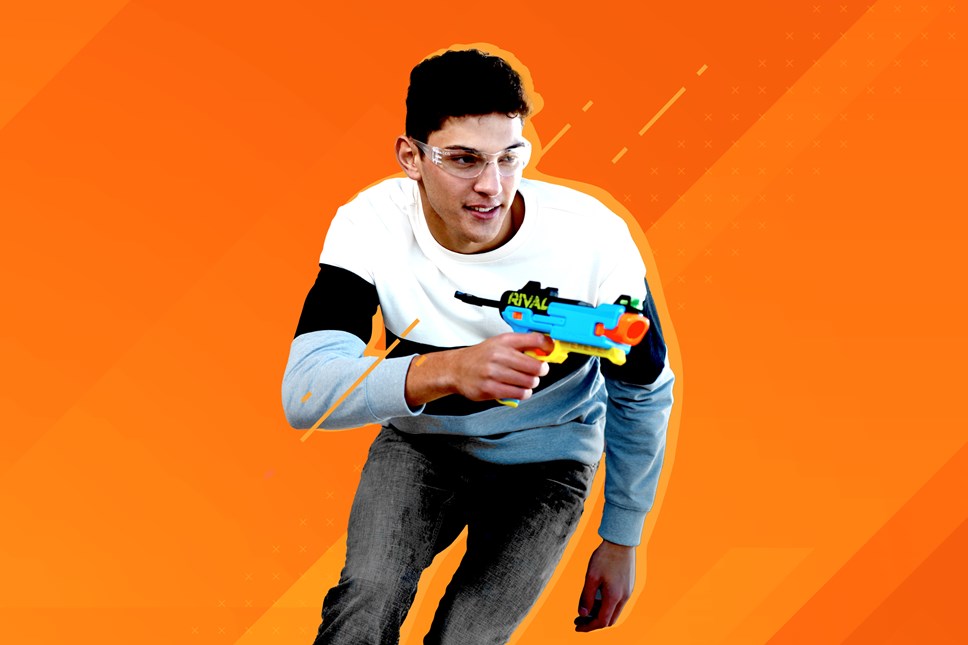 New to the UK, the first ever Nerf Training Camps will invite holiday makers to blast into battle at Haven holiday parks in an exclusive new partnership
31 On-park Nerf Training Camps will open in June, ready for the peak summer season
The new iconic Nerf partnership with the UK's leading holiday park operator increases Haven's diverse range of much-loved activities for children, teenagers and adults alike
Leading holiday company Haven has partnered with global leader in play Hasbro, through innovative leisure operator Rocafella Leisure, to launch the new NERF Training Camp this summer in 31 parks, taking guests on an exhilarating, energetic and entertaining competitive adventure.
NERF Training Camp is a dynamic two-team game, combining the buzz and play of paintball with the speed and agility of basketball. Each player, equipped with a NERF blaster and safety goggles, will compete to score points by getting the ball into the opponent's net without being struck by the opposition. The gameplay space will feature inflatable obstacles that players can use to duck and dive around to avoid rival darts, rounds and discs.
Simon Price, Operations Director for Activities & Leisure, Entertainment and Retail at Haven, said, "We are thrilled to introduce the high-energy NERF Training Camp to Haven this May for our guests. We pride ourselves on our diverse and interactive range of park activities that make for many fond, long-lasting memories and we look forward to seeing players of all ages battle it out for victory!"
The activity will run with four to 16 players, and in four rounds of four minutes - with a bonus round at the end of the match - up to eight players at one time can come together and strategise to create the perfect, winning gameplan before taking it to the field in pursuit of NERF Training Camp competition glory.
"NERF Training Camp, exclusive to Haven holiday parks, will provide tremendous fun for children and adults alike," said Brian Ward, Chief Operating Officer for Rocafella Leisure. "NERF is renowned for its engaging play and energetic performance, and we are extremely excited to bring the iconic NERF blaster in a collaborative, fun-for-all game to Haven.

"This marks the first of many projects earmarked in our newly formed partnership with Haven to deliver Hasbro branded leisure activity across their parks, inspired by our inaugural NERF Action Xperience entertainment centre opening in Manchester later this summer," added Ward.
NERF Training Camp will be available to play in 22 Haven parks from the 27 May 2023, and the remaining nine from the 23 June. For further details, see here https://www.haven.com/discover/whats-new/nerf-training-camp
Contact Information
Corrie Parris
Notes to editors
-Ends-
Notes to editors:
NERF is a trademark of Hasbro and is used with permission. © 2023 Hasbro. All Rights Reserved. Licensed by Hasbro.
Rocafella Leisure are the licence holders for the operational delivery of localised based entertainment across Hasbro IP, such as NERF, in allocated territories that include the UK.
NERF Action Xperience is owned and operated by Rocafella Leisure Group.
NERF Action Xperience, located in Trafford Palazzo, Manchester will be Europe's only dedicated NERF family attraction centre that provides guests with a multitude of NERF fuelled indoor activities across five adrenaline-packed zones - including sports, target-practice and immersive battle zones.
About Hasbro
Hasbro is a global leader in play whose mission is to entertain and connect generations of fans through the wonder of storytelling and exhilaration of play. Hasbro delivers engaging brand experiences for global audiences through gaming, consumer products and entertainment, with a portfolio of iconic brands including MAGIC: THE GATHERING, DUNGEONS & DRAGONS, Hasbro Gaming, NERF, TRANSFORMERS, PLAY-DOH and PEPPA PIG, as well as premier partner brands.
Hasbro is guided by our Purpose to create joy and community for all people around the world, one game, one toy, one story at a time. For more than a decade, Hasbro has been consistently recognized for its corporate citizenship, including being named one of the 100 Best Corporate Citizens by 3BL Media, one of the World's Most Ethical Companies by Ethisphere Institute and one of the 50 Most Community-Minded Companies in the U.S. by the Civic 50. For more information, visit https://corporate.hasbro.com.
About Rocafella Leisure Group
We help transform globally recognised IP into leisure and recreation solutions that inspire visitors. Whether it's helping find the right venues, in the right territories, or fully operating an FEC, we have the capability to deliver. We do this through either end-to-end operations to creative consultancy services.
Working with a variety of intellectual property owners across the globe we transform their coveted content into compelling and thrilling family entertainment experiences that wow visitors daily. Our approach is to inject creativity and operational nous to an already popular product to deliver world-beating family entertainment centres that excite and captivate.