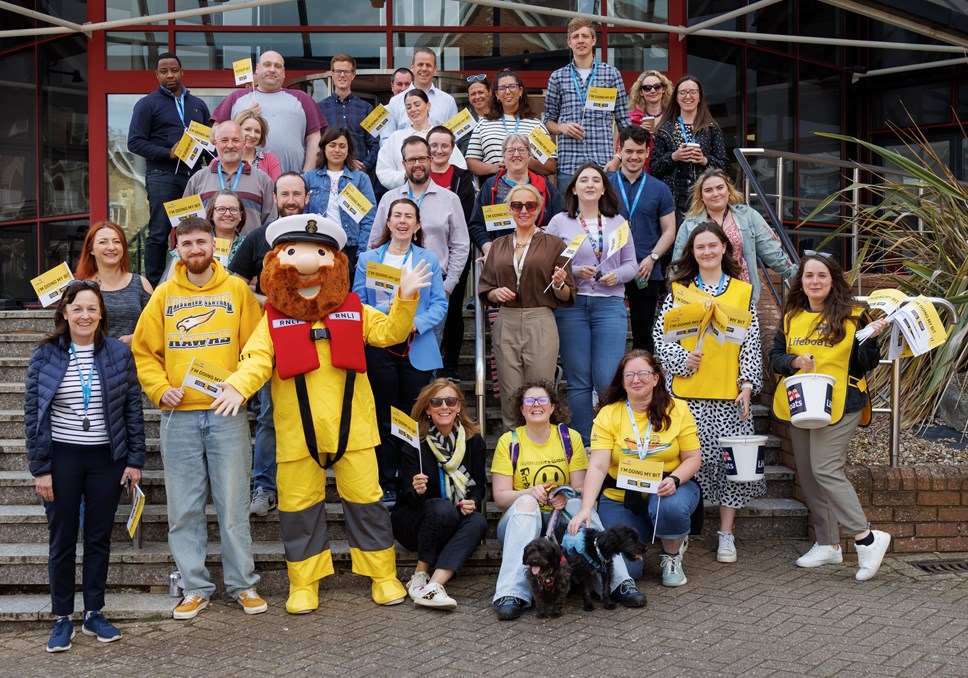 Haven's Mayday fundraising event raises smiles and donations for the Royal National Lifeboat Institution
Fundraising event brings Haven one step closer to its £1 million goal in support of its charity partner
At the beginning of the year, Haven set an annual fundraising target of £350,000 for the RNLI
On Tuesday 16 May 2023, team members from Haven, leading UK holiday park operator, put their best foot forward and took to the streets of Hemel Hempstead to take part in the RNLI's national Mayday Mile campaign. With the all-important aim of spreading awareness and raising charitable funds, the donations raised will help fund new RNLI equipment, safety gear and essential volunteer training.
The group of Haven team members were decked out in the Mayday Mile's signature colour of bright yellow to match the costume of Stormy Stan, the RNLI's famous mascot, who accompanied the fundraisers on their one-mile walk. Stopped by curious members of the public, Haven was able to raise awareness within the Hemel Hempstead community surrounding the importance of water safety and education, as well as the incredible work that the RNLI carry out daily. Generous locals and visitors delved into their pockets to donate and spread the word and support.
"We are exceptionally proud to continue to support the RNLI in their mission to save lives at sea and to also honour the selfless and vital work that the volunteer lifeguards carry out," said Simon Palethorpe, Managing Director of Haven. "With all 41 of our parks dotted around Britian's coastlines, our partnership with the RNLI continues to ensure that we can provide our guests with a range of information to help them feel safe at sea and enjoy their holiday by the beach."
At the start of 2023, Haven began a new initiative whereby every portion of cod sold at its own Cook's Fish and Chips takeaway vendor, which is available at 29 parks, makes a 20p donation to the RNLI.
The RNLI lifeguards rescue around 24,000 people every year and it is their mission to educate and share water safety knowledge to reduce the risk and tragedies both on and offshore.
Contact Information
Kate Backhouse