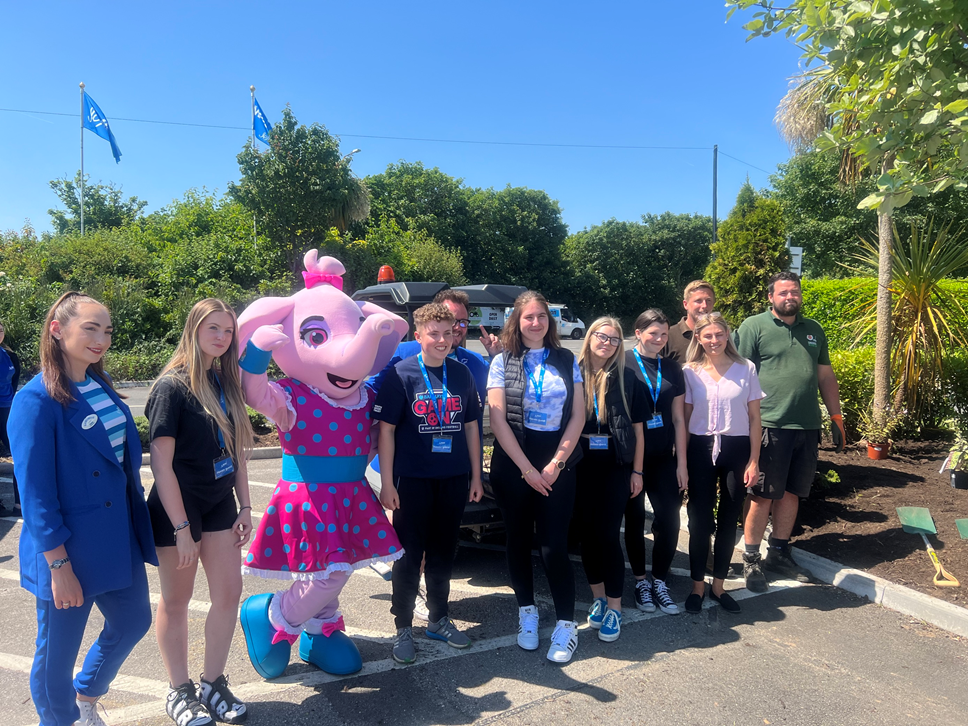 Haven launches new work experience programme in Blackpool for up to 100 local students
Programme launches in partnership with Highfield Leadership Academy
The scheme will provide local students with essential skills to support their future careers
Haven aims to expand the programme across all its 41 parks
Haven, the UK's leading holiday park operator, has launched a five-week Work Experience programme, in partnership with Blackpool's Highfield Leadership Academy, to equip young people from the local community with the essential skills and expertise they need to support their future career development.
The programme will provide an exciting and invaluable learning opportunity for Year 10 pupils to take a closer look at the varied career opportunities available at Haven and in the Hospitality, Tourism and Leisure industry more broadly. Each week, from 13th June until 7th July, groups of Year 10 pupils will learn essential skills in areas across the park including guest experience, food & beverage management, facilities, and activities. The week will also involve planting a dedicated Highfield Academy flower bed and making their own Papa John's pizzas for their lunch.
As of June 2023, the ONS (Office for National Statistics) confirmed that over 1 million young people aged 16-24, are not in full-time education or employment. This figure has been consistent for the last 6 months, proving that there is more that needs to be done to support young people getting into employment. Blackpool currently has one of the highest levels of young people not in Education, Employment or Training (NEET) in the UK, with 7 per cent of young people in Blackpool categorised as NEET in 2022/23 compared to 2.8 per cent nationally. This programme by Haven aims to tackle this issue by showing young people how rewarding a career in the hospitality and tourism industry could be.
Dean Giles, Head of Learning and Development at Haven, commented: "Our new work experience programme will bring to life the incredible range of options and excellent career pathways available without limits at Haven. The students of Highfield Leadership Academy are the future, and we are delighted to be helping them to recognise and harness their talent and potential, to give them the very best start in their chosen career."
This local school initiative is the first of its kind at Haven, with the company aiming to expand its summer work experience programme across its 41 parks, to support more young people in the local communities it operates. Currently, 29% of all park team members are aged 16-20.  This represents a 6% increase on 2022 and demonstrates Haven's commitment to helping young people build their skills, career confidence, and knowledge in the Hospitality, Leisure and Tourism sectors.
Anand Patel, Principal at Highfield Leadership Academy, says, "Haven's weekly work experience programme is an invaluable opportunity for our pupils to learn new skills and gain important experience to help them pursue future careers at Haven or in the wider Hospitality, Leisure and Tourism sector. We know that the pupils taking part will feel more confident about the world of work once they have had real-life experience of it, and I look forward to hearing all about their placements."
Highfield Leadership Academy School Governor and local Labour Councillor, Peter Hunter added, "I'm passionate about the power of good quality work experience to help young people find their career path as it enhances skills development, employment outcomes and future earning potential. Everyone deserves a taste of work experience regardless of their background or who their parents know. I'm confident that this new summer scheme will be a worthwhile and fun opportunity for the students and essential to levelling up and increasing social mobility in the local area."
Haven's inaugural on-park work experience programme follows the nationwide introduction of the Haven Holidays Virtual Work Experience programme in partnership with Youth Employment UK. The virtual programme is free to all young people aged 11-30 with supporting educational resources for Key Stage 3 and 4 students.
Contact Information
Kate Backhouse