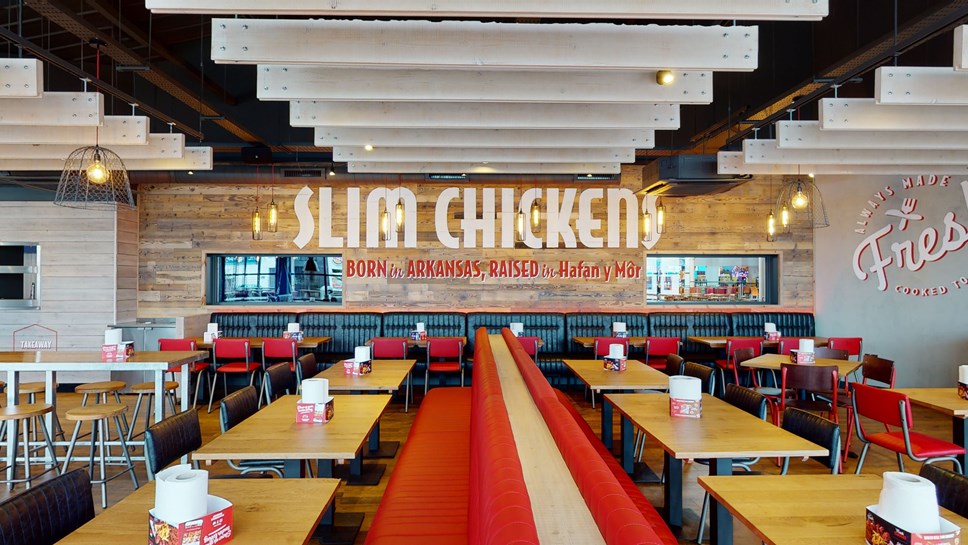 Haven introduces new restaurant concepts as 'Slim Chickens' becomes the latest brand to roost
Slim Chickens franchise lands at Haven Holiday parks
Slim Chickens to be introduced to Devon Cliffs, Hafan y Mor parks and Primrose Valley ahead of key summer holiday period
New partnership increases range of food and beverage brands to nine and first Chicken concept to be introduced.
Leading UK holiday operator, Haven, has announced it will be bringing a taste of the USA to three of its parks this summer with the introduction of Slim Chickens restaurants to Devon Cliffs, Hafan y Mor and Primrose Valley.
Famous for its chicken tenders and hugely popular in the USA, Slim Chickens has 19 restaurants across the UK, although the first time it has ventured into UK holiday parks. The brand is synonymous with offering real Southern chicken dishes and good old Southern hospitality, serving up cooked-to-order premium chicken with a side of Blues music - creating a relaxed, casual, but memorable experience. 
"We are excited to be bringing the Slim Chickens restaurant franchise to Haven," said Cain Savazzi, Food and Beverage Operations Director for Haven. "We are constantly looking at ways to improve our guest food and beverage experience and we believe that Slim Chickens will be the perfect partner as we provide a new dining experience on park."
The new Slims Chickens restaurants at Devon Cliffs, Hafan y Mor and Primrose Valley will provide indoor seating so families can take their time enjoying their meals, with easy to use ordering kiosks and a range of food cooked fresh to order and served in less than 10 minutes. Complementing the range of other food and beverage offerings, Haven guests at Slim Chickens can enjoy dishes such as the Slims' signature buttermilk marinated chicken as well as a range of 15 signature dipping sauces from creamy Blue Cheese to the Fiery Inferno – and yes as hot as it sounds!
"Since launching Slim Chickens to the UK in 2018 we've seen a huge appetite amongst customers who want Slim Chickens to be part of their local communities, and landlords who want to bring Slim Chickens into their centres," said Phil Neale of Slim Chickens. "We believe that the partnership with Haven will allow us to bring our great tastes of Slims to a wider audience and are looking forward to serving more families and being part of their Haven experience!"
The three new Slim Chickens will be open at Devon Cliffs and Hafan y Mor in June and Primrose Valley in July, and whilst on opening will offer dine in only, they will be able to provide delivery to holiday homes and entertainment venues in the future.
Contact Information
Corrie Parris
Notes to editors
-Ends- 
For any more information or imagery please email havenpressoffice@haven.com or call 01442 941079 
Notes to editor:  
Haven: As one of Britain's leading family holiday companies Haven own and operate 41 award-winning family holiday parks throughout England, Scotland and Wales. They offer a full programme of activities and entertainment alongside being located next to some of Britain's most beautiful beaches and brightest resorts making them a great base for exploring the local area.