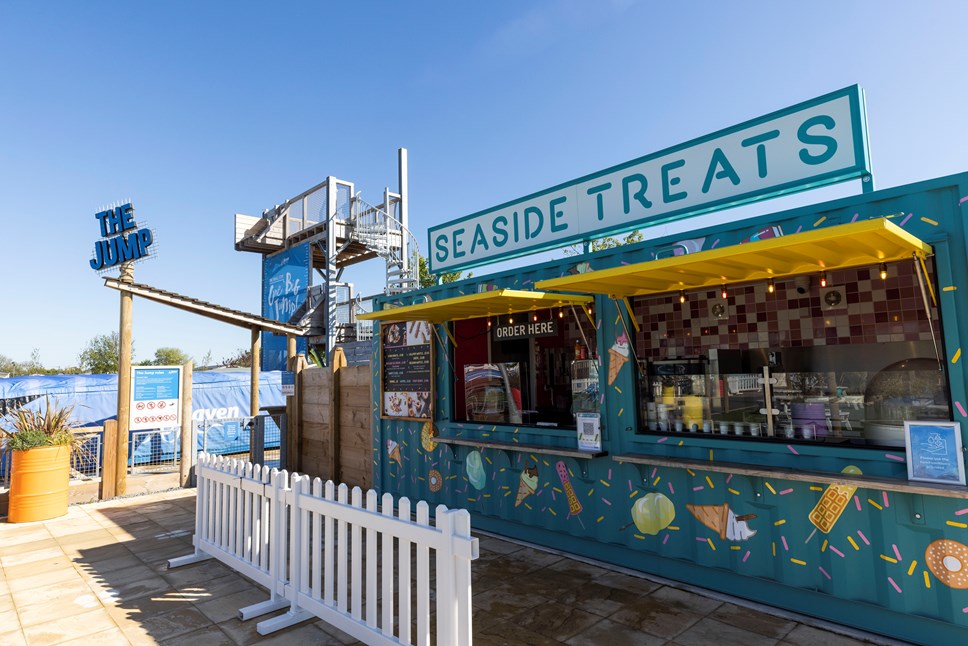 Haven increases its range of outdoor dining and leisure facilities ahead of bumper packed British summer
Over £2 million spent improving outdoor facilities for summer 2021.
Leading UK holiday park company Haven has expanded its range of outdoor dining, drinking, leisure and entertainment facilities ahead of what is expected to be its busiest summer yet.
With many holidaymakers coming on holiday this month, the need to provide more facilities as well as developing concepts that have been successfully trialled in the last couple of years is central to the £2.6 million range of developments.
"As part of our extensive Park of the Future program we have been trialling both large scale concepts such as the Marina Bar and Stages and Adventure Villages but also some small scale projects such as utilising pop up bars," said Gerard Tempest, Chief Marketing Officer for Haven. "As we look to a busy summer, we have introduced more to our outside areas for guests to enjoy whether they are on a Stay or Stay+Play holiday."
Five more parks will receive container bars providing somewhere to cool off and take in a drink in the sunshine while three parks will also get new Burger King kiosks.
Ten parks will receive LED screens so that outdoor entertainment can be enjoyed on a large scale while three parks who already have had new outdoor stages installed in the last year will be having additional features added to ensure that whatever the weather, the show will go on!
Retail karts will be added at 20 parks allowing guests to purchase a range of holiday essentials whilst more space to sit and enjoy the sunshine is key so additional outdoor furniture and increased Wi-Fi will be included at over 27 parks.
One of the most exciting leisure concepts that Haven has introduced in recent years will be brought to two new parks in 2021. The Jump, which was first developed in Craig Tara in 2019, will be installed at Haggerston Castle and Presthaven this summer. Certainly not one for the faint hearted, The Jump provides guests with the chance to freefall from two different heights onto a massive airbag! Even if you don't participate yourself, it is one of the most keenly watched activities on park!
The developments have been worked on throughout the last few months and will all be complete in time for the school summer holidays this week whilst Haven will continue to assess the impact of all its Park of the Future developments ahead of announcing its plans for 2022.
Contact Information
Judith Ineson
PR Manager
Haven
Notes to editors
Note to News Editors: For more information contact Haven Press Office, Tel: 01442 941079, email: havenpressoffice@haven.com
About Haven
As one of Britain's leading family holiday companies Haven own and operate 40 award-winning family holiday parks throughout England, Scotland and Wales. They offer a full programme of activities and entertainment alongside being located next to some of Britain's most beautiful beaches and brightest resorts making them a great base for exploring the local area.