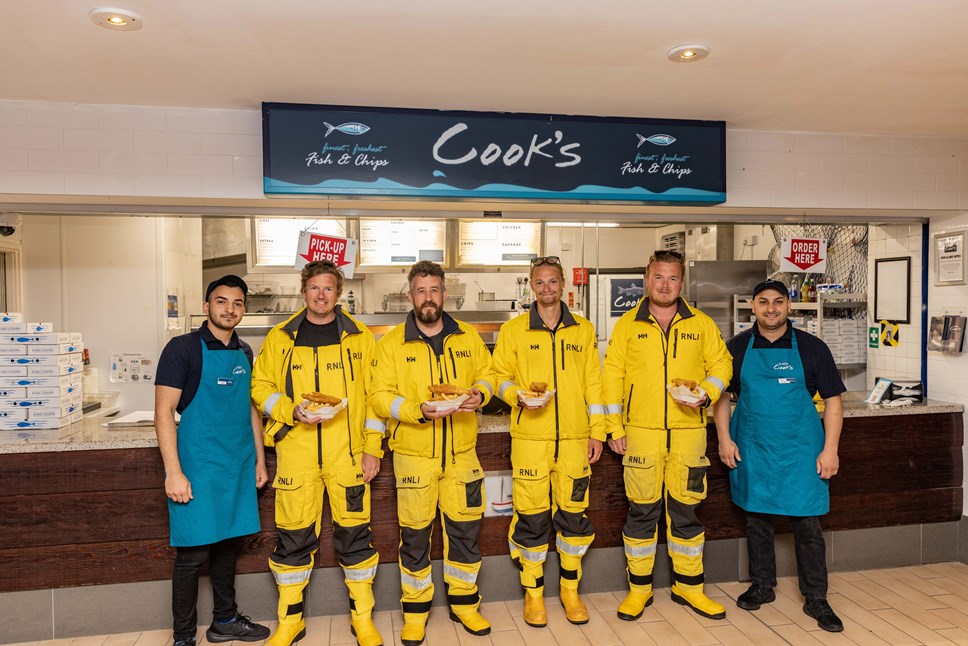 Haven celebrates National Fish & Chip Day with the Royal National Lifeboat Institution to mark its new Cook's Fish & Chips restaurant donation initiative
Haven's Devon Cliffs Holiday Park ranks number one in the country for RNLI donations raised through its Cook's Fish & Chip restaurant.
Haven raises over £11,000 through the initiative bringing Haven one step closer to its £1 million goal in support of its charity partner.
Across the UK, in support of the RNLI, leading holiday company, Haven celebrates National Fish & Chip Day on Friday 2nd June with RNLI crew volunteers to help raise awareness and charitable funds, for new RNLI equipment, safety gear and essential volunteer training.
Exclusive to Haven, Cook's is the second largest fish and chip franchise in the UK with 30 restaurants and 7 takeaway vans at holiday parks across the country. Earlier this year Haven began a new initiative whereby every portion of cod sold makes a 20p donation to the RNLI,
meaning holidaymakers can purchase a portion of cod alongside any regular meal and donate towards the RNLI without any extra charge.
Following a successful opening season, in just two months cod sales at Haven Devon Cliffs have already raised an impressive £896 alone. On Thursday 1 June 2023, the Exmouth RNLI station was invited to Devon Cliffs Holiday Park to enjoy the nation's favourite coastal meal and celebrate the holiday park's achievement.
The RNLI has been Haven's charitable partner since 2018. This year, Haven set an overall fundraising target of £350,000 for the RNLI. An ambitious target which if achieved, brings Haven one step closer to its £1 million goal to support the charity partner.
Speaking of the initiative Richard Herbert, National F&B Manager at Haven said "We are exceptionally proud to support the RNLI in their mission to save lives at sea and to also honour the selfless and vital work that the crew carry out.
"With all our parks dotted around Britain's coastlines, our partnership ensures that we can provide our guests with information to help them keep safe and enjoy their holiday by the beach. Plus, new for 2023 throughout the year, and not only on National Fish & Chip Day, when holidaymakers at 37 Haven parks across the UK order from our own on-park Cook's Fish and Chips takeaways, we donate 20p to the RNLI for every portion of cod sold, which together takes Haven closer to its target of raising £1 million pounds for the RNLI since the partnership began in 2018."
The funds raised will directly help support the RNLI with inshore lifeboats, crew gear and training. For more information about the charity visit www.rnli.org or follow @RNLI on Facebook, Instagram and Twitter.
Contact Information
Kate Backhouse