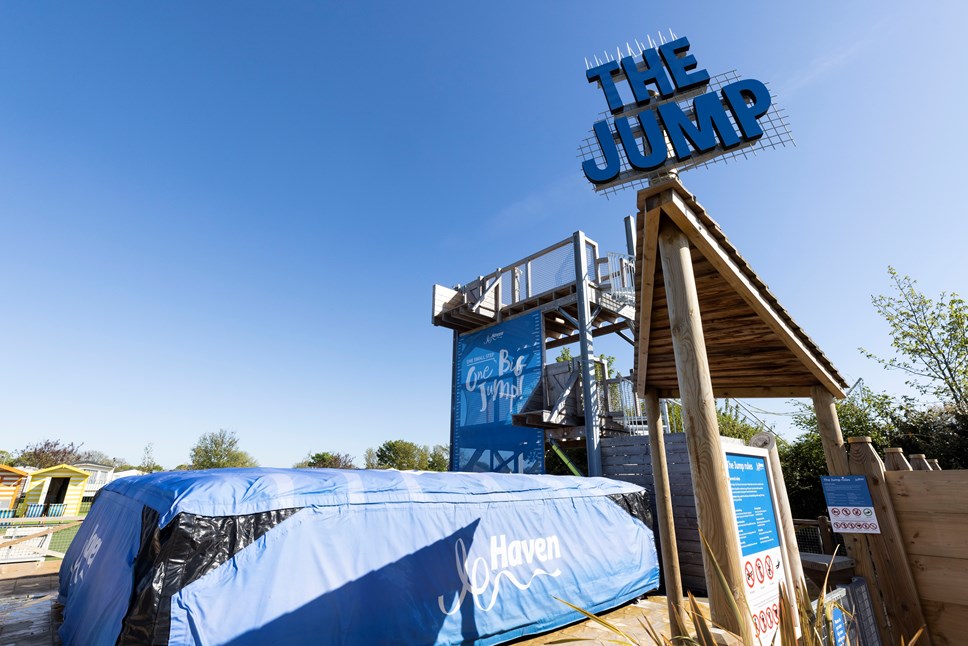 Haggerston Castle takes a real jump into the summer
New outdoor activity arrives at Haggerston and is sure to thrill!
Ahead of what is expected to be one of the busiest summers for UK staycations, leading UK holiday park operator Haven has made some additions to the outdoor entertainment and leisure facilities at Haggerston Castle to give guests and owners a real summer to remember!
One new addition that is certainly going to provide plenty of attention is Haven's new activity The Jump . First introduced in 2019 at Haven's Craig Tara, this thrill-seeking activity will give holidaymakers the experience of free falling from two different heights onto a massive airbag. The new activity will arrive this summer on park at Haggerston Castle, with other The Jump's to be installed at Presthaven.
In addition to The Jump, guests at Haggerston Castle will be able to take advantage of the new pop up container bar which will allow guests and owners to quench their thirst whilst enjoying what we hope will also be a summer of great weather!
The Park of the Future project, which is now in its third year, has seen Haven invest over £110m to introduce new innovative concepts for holidaymakers and holiday homeowners to enjoy. The new developments introduced at Haggerston Castle this year will see an additional £1 million investment to the park with The Jump a permanent activity feature for guests to enjoy for many years to come.
"As part of our extensive Park of the Future program we have been trialling both large scale concepts such as the Marina Bar and Stages and Adventure Villages but also some small scale projects such as utilising pop up bars," said Gerard Tempest, Chief Marketing Officer for Haven. "As we look to a busy summer, we have introduced more to our outside areas for guests to enjoy on holiday."
Haggerston Castle was one of the first parks to benefit from Haven's Park of the Future concept with its biggest ever investment in 2019. This saw a renovation to its main complex with a 'Garden Atrium' beautifully landscaped to bring the outdoors, indoors, an interactive virtual reality experience, new look family amusements centre and soft play area. The park also benefited from a new 'The Tower Sports Bar' for those who want to make sure they miss none of the sporting action on their break, while the food areas also saw a renovation and a newly refurbished 'Creative Studio' for those wanting to show their artistic flair whilst away.
The new developments will be in place in time for the school summer holiday period.
Contact Information
Louise Sterling-Jackman
Notes to editors
-End-
For any more information or imagery please email havenpressoffice@haven.com or call 01442 941079
Notes to editor:
Haven: As one of Britain's leading family holiday companies Haven own and operate 40 award-winning family holiday parks throughout England, Scotland and Wales. They offer a full programme of activities and entertainment alongside being located next to some of Britain's most beautiful beaches and brightest resorts making them a great base for exploring the local area.