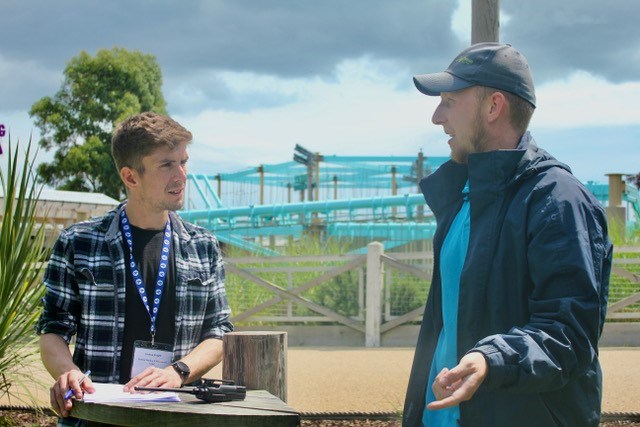 Great Yarmouth youth have their say!
Haven helps Youth Employment UK meet face-to-face with local young people for its nationwide youth census
Holiday park operator provides a fun place for Youth Employment UK to host local youth feedback sessions at Haven Caister on Sea
Great Yarmouth youth opinions to help inform Annual Youth Voice Census 2023
On Thursday 13 July, Haven's Caister-on-Sea holiday park located in Norfolk opens its doors to host a local youth listening forum with Youth Employment UK – an opportunity to temperature check how young people in the local area and young team members who work at the holiday park, feel about education, employment, training, where they live, looking for work and the impact of Covid-19.
Each year, Youth Employment UK share these views and findings to help create a backbone of big data evidence for improving policy and youth support in the UK in the form of the 2023 Youth Voice Census, which will be launched nationwide in September.
The local Great Yarmouth youth feedback sessions come at a time when the ONS (Office for National Statistics) confirmed last month that over 1 million young people aged 16-24, are not in full-time education or employment. This figure has been consistent for the last 6 months, proving that there is more that needs to be done to support young people getting into employment.
As part of the award-winning Bourne Leisure group, Haven employs over 16,000 people across the UK and across its 41 coastal holiday parks, more than 1 in every 4 (29%) of all its park team members are aged 16-20. Having worked with Youth Employment UK for many years to support its own early careers and work experience offering, Haven adopts the final Youth Voice Census findings to shape its future programmes and career opportunities for today's young people in the hospitality and tourism industry.
Laura-Jane Rawlings, CEO of Youth Employment UK said: "We are delighted to be developing our work with Haven, and the feedback sessions at Caister bring an exciting opportunity for local young people to have their voices heard. I am confident that this worthwhile and fun opportunity for local young people will be essential to our annual Census and the idea of levelling up and increasing social mobility in the local area."
Earlier this year, together with Youth Employment UK, Haven launched a nationwide Virtual Work Experience programme. The virtual programme is free to all young people aged 11-30 with supporting educational resources for Key Stage 3 and Key Stage 4 students.
Dean Giles, Head of Learning and Development at Haven said: "In an ever-changing landscape, it's more important than ever to give young people the platform to have their voices heard. Inviting them to a holiday park gives them a fun place to do this and the Youth Voice Census helps give Haven the direction and guidance to really drill down on what the young people are looking for and give them the best start in their careers."
Contact Information
Kate Backhouse